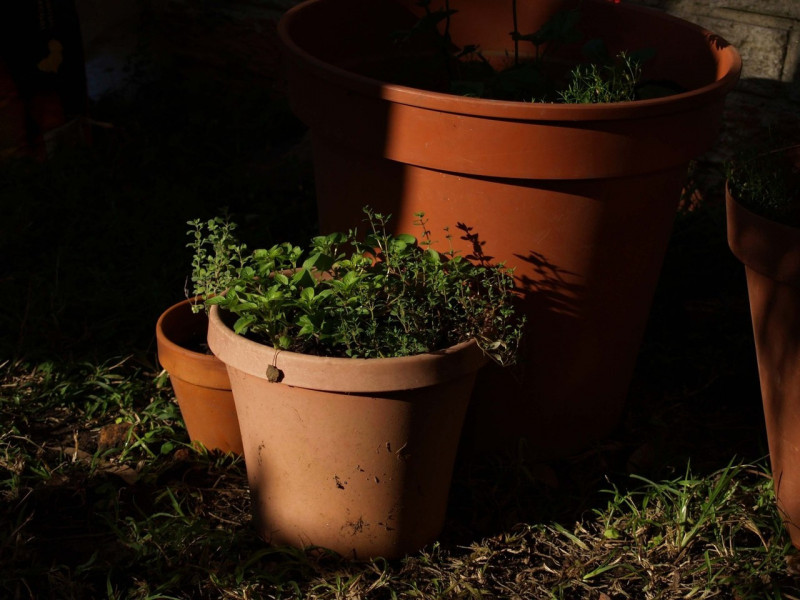 Herb pots make great gifts for any occasion, or a just because occasion. Itís a gift that keeps on giving through the gardening season! There I was with extra container pots and I always have herbs lying around (cause ya know, everyone needs extra herbs) Bada Bing Bada Boom! The kids were painting their own pots so I joined in the fun!
Paint for Pots
I wanted to bring some color into a very green area, so I picked out some metallic sheen paints that would compliment the herbs. I went with Thyme, Basil and Rosemary because they are so versatile when cooking, and because they have such a nice fragrance. I love when the wind blows my larger basil plant and the smell whooshes through the breeze.
As with any craft, I am not that artistic when it comes to writing, so I kept things nice and simple. With my charcoal pencil in hand, I printed out words in a rather nifty font and traced them onto my pots. This is my new go to technique since learning how to use it with my birdhouse gourds.
Keeping Dirt In Your Herb Pots
Once the polyurethane spray dried, I went ahead and planted the herbs. With the Terra Cotta pots I have, the drainage hole for excess water is rather large, so I placed a coffee filter at the bottom of the pot. This will keep the dirt from leaking out and still allow the water to escape when needed.
Coffee Filter in Pot
I was so giddy when these were finally complete! I hoped my friend would like them.Pots on Steps
Dropping off your Herbs. Like a Ninja!
I snuck over to her house and placed them in her backyard on her porch. That way when she went to open the shades on her door, there they would be! Hopefully the neighbors didnít think I was trying to break in or anything as I crept around her house.
Dropped Off Gift
Hopefully they put a smile on her face when she sees them! This has got my brain working around some other frugal crafts I could make as gifts, posts to come soon! Happy gardening!