Build a Hydroponics System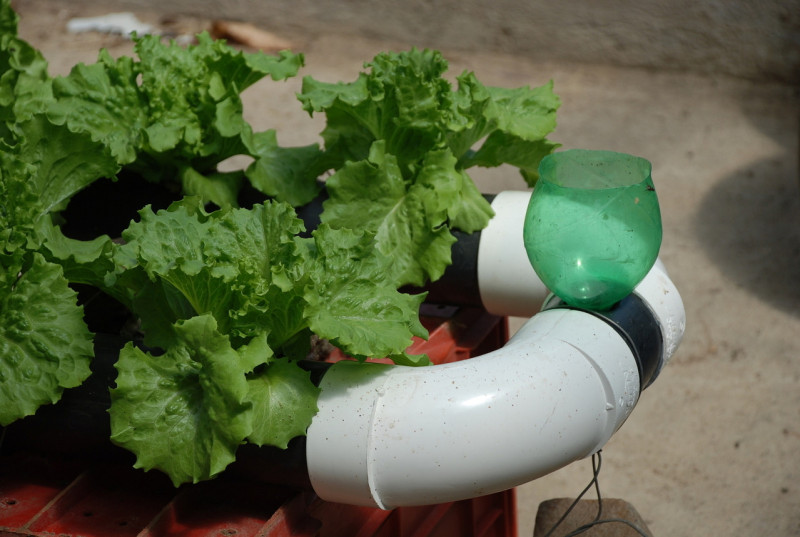 The easiest way to build a hydroponics system, is to use the ebb and flow system. All of the parts you need to build hydroponics system in the ebb and flow style are readily available at your local hardware store.
Before you start building, you should understand the basics of the process. Essentially, it works as a reservoir system which contains nutrient solution, located below a growing tray. The tray is what holds the plants in containers filled with growing medium (for example, perlite/vermiculite mix, coconut fiber, grow rocks, or rock wool). Periodically, this growing bed is flooded by a small pump which works on a timer, effectively watering the plants. The timer will shut off the pump when it has dispensed enough water, and the nutrient solution is permitted to freely drain back into its original reservoir, drawing oxygen into the root zone of the plants. At the nutrient fill height, an overflow drain is installed so that the system is not able to overflow.
In order to build hydroponics system in the ebb and flow style, you'll need:
An ebb and flow tray
A support structure
A reservoir
A pump
Fill and drain fittings
Flexible tubing
Plant containers
Growing medium
A timer
To build hydroponics system, you need to first install the overflow drain, followed by the fill fitting, into the ebb and flow tray. If it is not already done, set up the support structure, and place the reservoir underneath it. Place the pump into the reservoir. The tray must then be placed on the support structure in a way that the overflow drain will flow back into the reservoir. Connect the fill fitting on the tray to the pump using the flexible tubing. Don't forget to connect the pump to the timer. Add the plants into the system, and fill the reservoir with the appropriate nutrients.
As you can see, with a bit of know-how, and the right tools and equipment, anyone can build hydroponics systems.